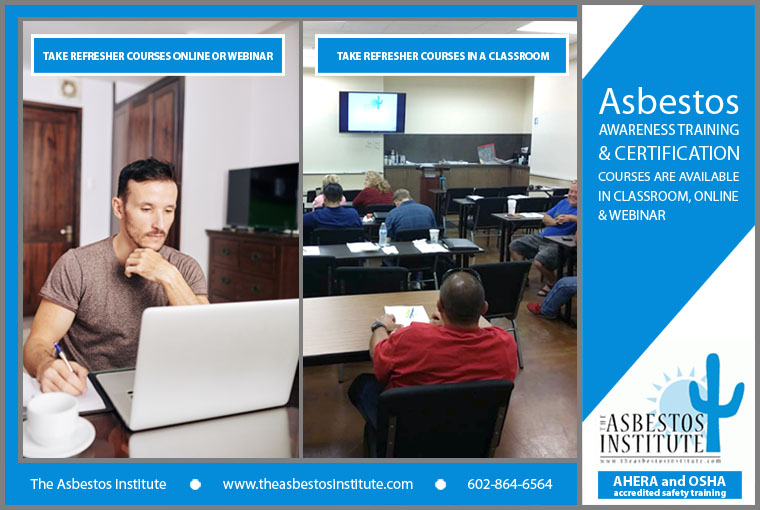 Online asbestos training courses with The Asbestos Institute allow you to align your learning with your personal schedule. This is a great option for students with family and work commitments. Our online courses are self-paced and meet the same requirements needed to maintain compliance (although Cal/OSHA's position is that 'AHERA courses taken online or by webinar are not Cal/OSHA approved').
Only refresher courses are offered online. Haven't taken the initial course? Initial courses (for first-time students) are only offered in a classroom, in order to satisfy regulatory requirements.
Asbestos Refresher Courses Online
Asbestos training certificates are only valid for 1 year after taking the initial classroom training. Asbestos workers need to take annual asbestos refresher courses annually to apply for recertification. We offer all types of asbestos refresher courses including asbestos supervisor refresher courses, asbestos inspector refresher courses, and more.
For students who have already taken an initial asbestos training course, you can choose a refresher class here. We also offer refreshers as Live Webinars or in a Classroom.
What is Asbestos Training or "Asbestos Awareness Training"?
Asbestos training is commonly referred to as "asbestos awareness training" and is used to satisfy OSHA regulations for workers who work with or might have exposure to Asbestos Containing Materials (ACM) including maintenance, custodial staff, and anyone doing abatement work. In an asbestos training course, you will learn what asbestos is, asbestos exposure health effects, where asbestos can be found, how to protect yourself from asbestos, and the laws governing asbestos.
How Do I Get Certified for Asbestos?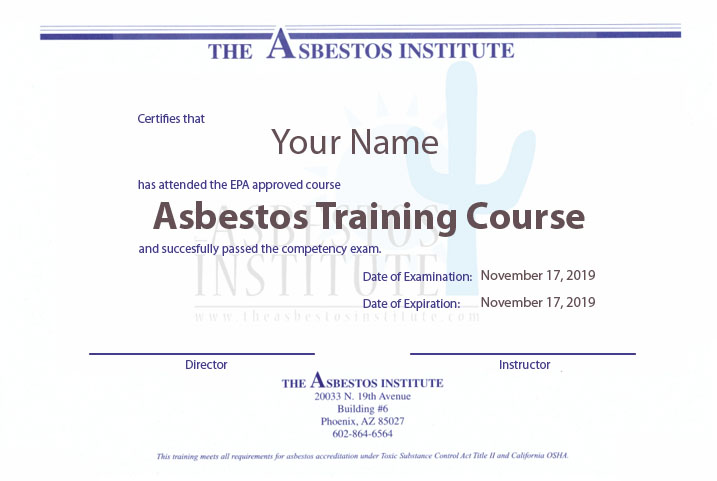 To get certified for asbestos you must first participate in the initial asbestos training course in person and pass the exam with a score of 70% or higher. You can apply for your asbestos certification after you complete the initial course and exam. Application requirements include submitting a copy of the training certificate, paying your application fee, submitting a photo of the candidate, and general employment information.
If you perform asbestos abatement work in multiple different states, you will most likely need to get a certification from every state you intend to work in. Read more about how to get certified for asbestos.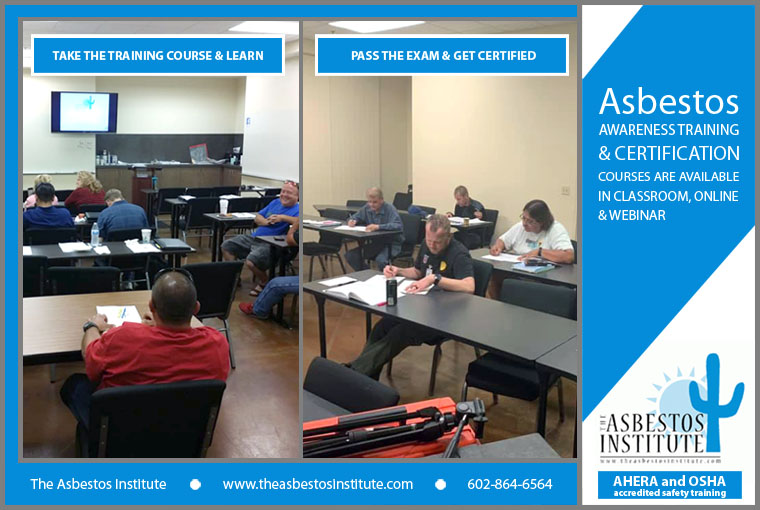 The in-person Asbestos Awareness training class meets all EPA AHERA and OSHA requirements. It is specifically designed for custodial and maintenance personnel that will conduct operations which may contact or disturb asbestos in buildings.
Our instructor-led course is facilitated by a certified EPA trainer and is conducted at our training center in Phoenix, Arizona. This course is also offered in an online format. We can also deliver our courses at any client's training facility. Please contact us if you would like to learn more about on-site instruction.
The Asbestos Awareness Training Course covers topics such as:
History, uses, and health effects of asbestos
Regulations, both state and federal
Instruction on recognizing damaged or deteriorated ACM (asbestos-containing material)
Which activities may or may not be performed relating to asbestos