Asbestos training is required by federal, state and local regulations for employees who may remove, disturb or come into contact with asbestos containing materials (ACM).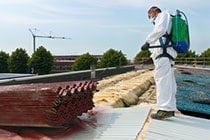 Worker Classroom Initial (English)
(32 Hour)
$565.00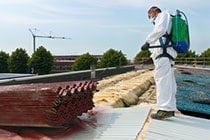 Worker Classroom Refresher (English) (8 Hour)
$170.00
 For over twenty years I've had the privilege of working with the Asbestos Institute and Bill Cavness. As a former regulator, I could always depend on the knowledge of Institute members in developing policy determinations and providing outreach to the regulated community. I would unhesitatingly recommend the Asbestos Institute to anyone in need of environmental training."
Robert S. Trotter, U.S. EPA Retired Former U.S. EPA/NESHAP Coordinator
Asbestos training and certification is required by federal and local regulations if asbestos containing materials are to be contacted or disturbed by any employee
There are serious health effects from exposure to this proven human carcinogen
Construction work in most buildings disturbs asbestos containing material
Because asbestos is a proven human carcinogen which causes a variety of diseases resulting in early mortality, congress began regulating asbestos in about 1970 principally through the Clean Air Act (CAA), the Toxic Substances Control Act (TSCA) and the Occupational Safety and Health Act (OSHA).
However, even if we did not have asbestos regulations, the workforce in the U.S. needs asbestos awareness and abatement training in order to avoid asbestos exposure which results in 10's of thousands of deaths annually. This number of early mortality cases is still increasing at an alarming rate every year. The most affected industry is construction/facility maintenance workers, followed by long-term occupants of buildings contaminated by uncontrolled ACM disturbance.  
The Asbestos Institute has been in business since 1988 and works closely with local and regional regulators in both a training and advisory capacity
The Asbestos Institute is one of a small handful of federal EPA accredited training sites in the US and the only one in Arizona
The Asbestos Institute is also accredited by CAL-OSHA in all 10 of the Model Accreditation Plan training courses, allowing the trainee to work in CA
The Asbestos Institute is privately funded, a member of the Better Business Bureau, as well as the National Federation of Independent Business
Determine which asbestos training course fits your needs
Attend initial asbestos training course or complete your course online (if offered), complete hands-on requirements, and pass necessary test following completion of course
Receive asbestos certificate and personal photo ID card
Each course requires an annual refresher course that may be taken in the classroom or online through The Asbestos Institute. The most popular training locations are Phoenix, Flagstaff, Tucson, San Diego, Las Vegas, and Sacramento.